The EuroBSDcon 2014 location is Sofia, the capital of a small East European country called Bulgaria. The conference will be hosted at InterExpo Congress Center, 147, Tsarigradsko shose blvd, Sofia. Sofia is best reached by airplane from all major European cities or by international rail/or automobile transport.
Contents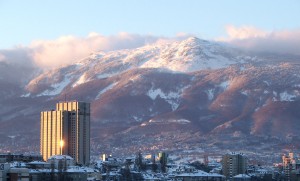 Sofia is located at the foot of Mount Vitosha in the western part of the country. It occupies a strategic position at the centre of the Balkan Peninsula. Sofia's history spans 2,400 years. Its ancient name Serdica derives from the local Celtic tribe of the Serdi who established the town in the 5th century BC. It remained a relatively small settlement until 1879, when it was declared the capital of Bulgaria.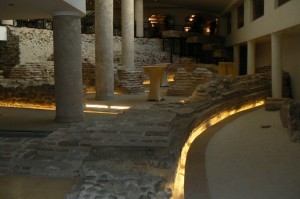 Sofia is the 15th largest city in the European Union with a population of around 1.3 million people. Many of the major universities, cultural institutions, and businesses of Bulgaria are concentrated in Sofia.
Further general tourist information on Sofia and Bulgaria can be found on Bulgaria travel official tourist portal and Visit Sofia portal . We also recommend trying out the Free Sofia Tour.
Weather
Sofia has a humid continental climate with warm summers and no dry season.
The month of September is characterized by rapidly falling daily high temperatures, with daily highs decreasing from 26°C to 21°C over the course of the month, exceeding 31°C or dropping below 15°C only one day in ten. The probability that light/moderate rain will be observed in Sofia varies throughout the month, most likely around September 28, occurring in 41% of days.
Currency
The currency is the lev(and its plural, leva, BGN), which is pegged to the euro at a rate of 1.95583 lev for 1 euro. Bulgaria is not part of the eurozone and has abandoned its plans to adopt the euro. Every lev used to consist of 100 stotinki (st). Leva notes are available in denominations of 2, 5, 10, 20, 50 and 100. Stotinki coins in use are 1, 2, 5, 10, 20 and 50 and 1v.
Visa Requirements
Since becoming a member of the European Union on 1 January 2007 the Republic of Bulgaria has been applying the European Union's Common Visa Policy, subject to the terms of the Accession Treaty.
In general, visitors from the following countries do not need a visa to enter Bulgaria for a period of up to 90 days within a six-month period:
Andorra, Australia, Austria, Belgium, Brazil, Brunei, Canada, Chile, Costa Rica, Croatia, Cyprus, Czech Republic, Denmark, El Salvador, Estonia, Finland, France, Germany, Greece, Guatemala, Honduras, Hungary, Iceland, Ireland, Israel, Italy, Japan, Latvia, Liechtenstein, Malta, Lithuania, Luxembourg, Malaysia, Mexico, Monaco, Netherlands, New Zealand, Nicaragua, Norway, Panama, Paraguay, Poland, Portugal, Republic of Korea, Romania, San Marino, Singapore, Slovak Republic, Slovenia, Spain, Sweden, Switzerland, UK (British Citizen Passport Holders and British Nationals /Overseas/ only), USA, Uruguay, the Vatican, Venezuela, SAR – China (Hong Kong, Makao) All holders of passports from countries not mentioned in the list above need visas to enter Bulgaria.
A passport valid for at least three months after entry is required.
On 25 January 2012 the Council of Ministers of the Republic of Bulgaria adopted a decision according to which by the date of Bulgaria's accession to the Schengen area, our country will unilaterally apply a visa-free system for holders of valid Schengen visas. They will have the right to enter and reside in the Republic of Bulgaria for a period of no more than three months in any six-month period from the date of the first entry, without needing to have a Bulgarian short-stay visa. The decision entered into force on 31.01.2012.
Check more at the Ministy of foreign affairs website and https://www.mfa.bg/uploads/files/VisaRegime_for_foreigners_ordinary_passports_en.pdf . If you need an invitation letter to assist in getting a visa to attend EuroBSDcon, please contact us at oc-2014 (at) eurobsdcon (dot) org.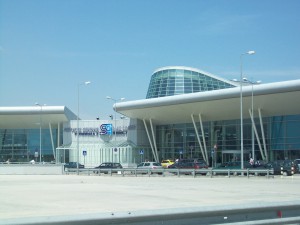 A number of airlines serve Sofia Airport (SOF) with Bulgaria Air (air.bg) flying non-stop to many major destinations in Europe by itself. Lufthansa, Austrian Airlines, Alitalia, LOT Polish Airlines, Ryanair, Easyjet and WizzAir provide regular scheduled service to further destinations. A number of additional airlines operate on a seasonal schedule. Sofia Airport handled some 3.5 million passengers in 2013.
The typical flight time to/from most major European destinations is between 2 and 3 hours.
For those without direct flights to Sofia the major connecting hubs are Munich (MUC), Vienna (VIE) and Frankfurt (FRA).
You may want to check for fares with your preferred airline or these fare comparison and booking providers:  Bulgaria Air (airline), Lufthansa (airline),  (Travelocity (booking), Expedia (booking).
The IATA airport code is: SOF
International rail and Automobile transport.
With its developing infrastructure and strategic location, Sofia is a major hub for international railway and automobile transport. Three of the ten Pan-European Transport Corridors cross the city: IV, VIII and X.
Bulgaria offers a wide-spread rail network to most corners of the country. On many routes you can enjoy great panoramic views.
International connections
Bulgaria various connections with other European countries:
Sofia Bucharest Sofia
Sofia Belgrade
Bulgaria Express – Sofia/Varna/Burgass – Kiev/Moskow
Varna/Sofia – Saratov
Black sea – Varna – Minsk/St Peterburg
Balkan Express – Sofia Instanbul
Vidin – Krayova
 Sofia Thessaloniki Sofia
Transport in Bulgaria/Sofia
Public transport is well-developed with bus (2,380 km (1,479 mi) network), tram (308 km (191 mi)) network, and trolleybus (193 km (120 mi) network), lines running in all areas of the city, although some of the vehicles are in a poor condition. The Sofia Metro became operational in 1998, and now has two lines and 27 stations. As of 2012, the system has 31 km (19 mi) of track. You can read more details about the public transport in Sofia on Wikipedia and the site of the Sofia Urban mobility center.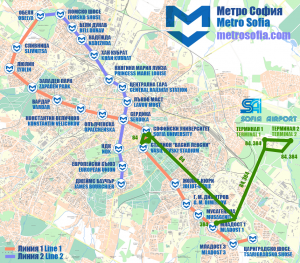 Two public bus lines connect the Sofia Airport with the city centre – lines 84 and 384.
Bus line N84 from Sofia Airport Terminal 2 via Terminal 1 to General Gurko Str offers convenient connections to the city metro line at the stops on Orlov most bridge and Sofia University "St. Kliment Ohridski" in the city heart. The bus ride from the airport takes between 30 and 40 minutes.
Bus line N384 from Sofia Airport to the Mladost district is the fastest way to reach the metro. The bus stops at Terminal 1 and Terminal 2 and after several intermediate stops terminates at the stop near to metrostation Mladost 1. You will need a separate ticket to use the use the metro to get to the city centre from there.
Public transport tickets can be purchased from the vending machine placed at Terminal 1, at the newspapers kiosks in the public areas of Terminal 1 and Terminal 2. You are supposed to have a ticket when you enter in the bus, you can normally buy bus ticket also from the bus driver.
Tickets cost BGN 1.00 / 0.5 EUR. A piece of baggage sized larger than 60 cm x 60 cm x 40 cm is charged by a separate ticket. A ticket is valid only punched in the device inside the bus.
The public transport operates from 5AM to about 12AM.
By Taxi
For your comfort and safety, we recommend that you take a taxi at the designated taxi stands in front of the western exits from Arrivals at Terminal 1 and Terminal 2. Alternatively, you could request a taxi at the desks of the taxi companies, which are located in the Arrival halls of the both terminals. Most taxi drivers don't speak English, but they should find the hotel if you show them the address. A normal price, generally speaking, from airport to city center should be around 10-12 BGN, not too much above that. A good company is OK Supertrans, the problem is fake taxies use similar names and appearance as OK supertrance, so always check the price printed on the front window and side windows of the car – it should be normaly between 70 stotinki and 1.50 BGN. Not too much more than that. Another good company are Green Taxi, but the need to be ordered via mobile phone (00359 878 810 810).
Hotels for attending EuroBSDcon
The hotels recommended for attending EuroBSDCon are
Sofia Hotel Balkan, a Luxury Collection Hotel, 5-star
Rates: €85/single, €90/double classic room,  €95/single, €100/double executive room.
Arena di Serdica Residence Hotel , 5-star
Rates: €85/single, €106/double classic room
Crystal Palace Boutique Hotel, 4-star
Rates: €85/single, €106/double classic room
Hill Hotel Sofia, 4-star
Rates: €45/single, €66/double classic room
For more information see our Hotels' page.
Power plugs
Plugs used in Bulgaria, as in most of Europe, are two-pin plugs; which means that sockets are made accordingly. The common voltage is 220 V, and it is wise to bring your own adapters as well as converters as these may not be available in the area you are traveling to.
Time difference
Bulgaria's time zone lies two hours ahead of Greenwich Meridian Time (GMT). Along with most of Europe, however, Bulgaria institutes its Summer Time. Summer Time is three hours ahead of GMT and is instituted from the last Sunday in March to the Saturday before the last Sunday in October.
Internet and Mobile Coverage
Internet Access generally is good and fast. Wireless access at the conference venue is provided free of charge to all EuroBSDcon attendees. Free wireless access is included at most hotels and many restraunts and cafes, and also available in several public areas, including the National Palace of Culture, Zaimov Park, Doctor's garden, Halite, the central bus station and all metro stations. A list of free Hot Spots in the city can be seen here.